MEDIA RESOURCES
Twitter Announces @anywhere Platform
Twitter should soon become more ubiquitous across the Web.  Today, the company's cofounders announced something called @anywhere that should help integrate the Twitter experience into standard sites, and a number of impressive organizations have agreed to take part in the initial rollout.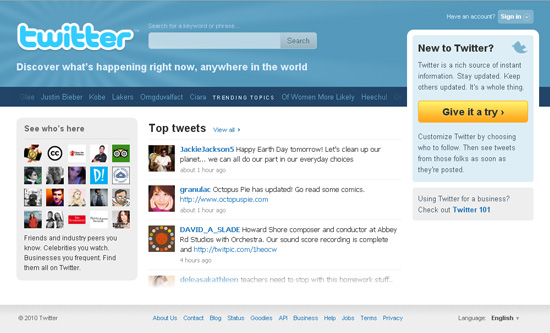 Evan Williams essentially handled the SXSW side of things this afternoon, discussing @anywhere during his keynote address. You can read our liveblogged coverage of that talk here.
As for what Biz Stone was up to, he explained on the official Twitter Blog, "We've developed a new set of frameworks for adding this Twitter experience anywhere on the web.  Soon, sites many of us visit every day will be able to recreate these open, engaging interactions providing a new layer of value for visitors without sending them to Twitter.com."
Stone then continued, "Our open technology platform is well known and Twitter APIs are already widely implemented but this is a different approach because we've created something incredibly simple.  Rather than implementing APIs, site owners need only drop in a few lines of javascript."
Amazon, AdAge, Bing, Digg, eBay, The Huffington Post, MSNBC, The New York Times, Yahoo, and YouTube are among Twitter's first partners in this effort.  Target dates and many other details remain unknown, but it looks like Twitter's set to give its own version of Facebook Connect a solid start.